Contact Address
House 60, Road 7/A, Dhanmondi R/A,
Dhaka-1205
dhaka.art.center
@gmail.com
Location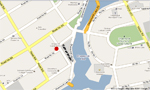 Globalization: A Bipolar Story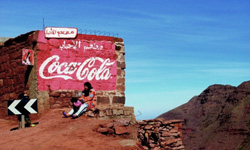 Globalization: A Bipolar Story, is a joint endeavor by Massachusetts Institute of Technology (MIT) and Bangladeshi Photographers. The purpose of this two phased exhibition is to bring together the work and perspectives of young photographers on a though provoking issue, globalization, from two contrasting corners of the world. Raqeebul I. Ketan, an undergraduate engineering student at MIT and a member of Bangladeshi Photographers, started the initiative with the support of Student Arts Association at MIT. His proposal won the CAMIT Grant (Council for the Arts at MIT) for its potential to promote photography as a medium of expression on contemporary issues. Later, SAA (Student Art Association at MIT) formed a partnership with Bangladeshi Photographers to implement the first leg of the exhibition in Bangladesh.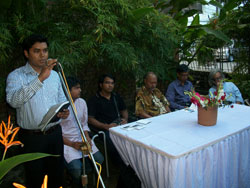 Globalization – A Bipolar Story focuses on the widely varied impacts of globalization, from economic division and climate change to culture fusion in two contrasting corners of the world. Students and affiliates from MIT, some of the most privileged group of individuals in the world, submit photographs that reflect their perceptions of globalization. Similarly, photographers from Bangladesh represent their understanding of the same issue. These exhibitions critically evaluate the definition of globalization as the process of transcending boundaries to create a more unified globe, and will spark creative thinking among the participants and visitors alike.

The first leg of the exhibitions is hosted by "Bangladeshi Photographers (BP)" at Dhaka Arts Center, while the second leg will be hosted by at the Wiesner Art Gallery in Massachusetts Institute of Technology (MIT) in mid November.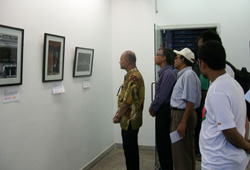 We are very proud and delighted to announce that, the renowned research University of USA Massachusetts Institute of Technology (MIT), Cambridge, Massachusetts and the first online photographic base of Bangladesh which has provided a common platform for both the professional and amateur photographers of our country Bangladeshi Photographers (BP) are going to jointly organize a two phased photography exhibition project titled Globalization – A Bipolar Story.


The selection process for this exhibition is a bit different from regular exhibitions. Photographers are requested to submit a 'portfolio' of 4/5 images, which represent the theme "Globalization". Interpret the theme in your own way, and send the portfolio. The 25 photographers with the best portfolios will be selected as the final participants.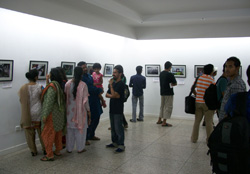 They will be given a short brief explaining the theme in depth and will be asked to shoot images, but without any strict obligations, based on the instructions and explanations given in the brief. We will select 25 best images after the photographers finish their assignment.(one from each photographer) This whole process will be conducted by the core organizer members of this project and the members from the jury panel which will consist of the internationally acclaimed photographers of Bangladesh.

The exhibition will showcase around 60 photographs in total from both participant countries where 30-35 photographs will be selected from Bangladeshi photographers and the rest will be selected from MIT, USA. From Bangladesh chapter, we have imposed an age bar focusing on the young photographer's boon of Bangladesh, still keeping a limited quota for the established professional photographers.

From Bangladesh chapter, this project will be coordinated by the members of BP Administration Panel while the USA chapter will be coordinated by Raqeebul Ketan. All the expenses of this project will be provided by the MIT authority.

The exhibition will be held on the 9th - 13th September 2011 in Dhaka Art Centre gallery Dhaka


More news link about this exhibition

news.priyo.com
Activities
2012

Solo Exhibition

Sumana Akter
Nasima Khan

Group Exhibition

Amity of Our's
Kibria Printmaking
Fair, 2012

Photography

Sayeed Siddiqui Rumi
Babu Ahmed

Seminar and other
Programs

Book Drive


2011

Solo Exhibition

Farhana Islam
Sanjib Datta
Ali Akbar
Dravid Saikot
Mustapha Khalid Palash
Minufar Nasrin
Naimul Bari
Mohammad Eunus
Mohammad Salim
Anwar Hossain

Group Exhibition

Crossover, 2011
Angina
Express Yourself
The Country of Rising Sadness
Group Painting Exhibition
Master and Apprentices
Paintings by Childrens
Rejoice
Jago Antore Momo

Workshop

Rickshaw Painters

Photography

Anwar Hossain
Plays in Light
Globalization: A Bipolar Story
Nafis Ahmed Nadvi

Seminar and other
Programs

Liberation War
Documentary Festival
Speech-Presentation
Bonsai Exhibition
K G Subramanyum

2010

Solo Exhibition

Jamal Ahmed
Monica Jahan Bose
Ferdousi Priyabhashini
Wakilur Rahman
Showpon Choudhury

Group Exhibition

Tree & Roots
Drawing Exhibition

Workshop

101 Art Camp
15 August 2010
Balu Chaya

Performance

Seiji Shimoda

Seminar