Echo of an artist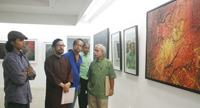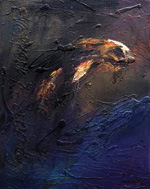 It has never been easy and it will never be, to be an artist. Yet, I follow the trajectory. The path of unknown and the voice in the thin air pushes me to experience the mirage. But the distant walk and the tiredness along the way allow me to rest and contemplate. Beneath the Banyan shade I begin to see the unseen and begin to hear the unheard and feel the heart beating in rhythm with a butterfly wings. Who ever thought, this would be the journey of knowing thyself. Conversing with subconscious, only I can hear them, if the resting is enough and the gained energy is bottled properly, I can begin to act and express. Only then my friend you can hear the distant echo of my inner voice and the art in me begins to tell you the story of stories. Allow you to put your bare hand on my heart to feel my dreams and desires. Your tears of joy and nectar of love give birth in me of what I am destined for, A Noro Shundor, Something like God.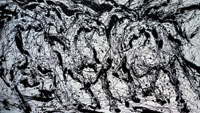 Gazing upon Dravid Saikot's work tells a different story. It's a story of a making, searching, finding and at times discovering. Art dies on canvas. More the appreciation, deeper the death. More the color, sadder the grief. Art lives in the mind of people. Society gives birth to art. In her sleepless movement, art swims like water in the river before the fish. It dwells in and around lives crevasses. Our perception is art, our action before reaction is art. Art is peace; art is war, art is freedom and mostly being free. When some of this energy rests on canvas, we freeze the moment. In its mummification, we embody the spirit for thousand years to come by.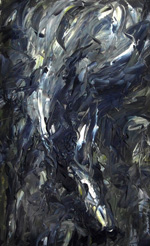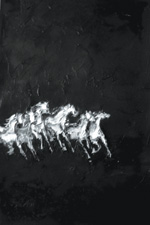 Saikot is restless and ever so ready like his subject. His subject is all too familiar, perhaps his own shadow. Didn't we see Saikot thousands of years ago in some cave? Didn't he give strength to Picasso's Guernica? Yes he did, yet, he gallops to reach us to share his unheard voice in him once again. The dusty fields beneath his horseshoes are of yours and mine. The places that he is running on are our everyday walk. But can we see them even after the dust has settled down? Can we find the paths with familiar eyes or is Saikot at all a part of our everyday walk? Please don't make mistake by calling him an artist. If so, we may show our naked self of not understanding of what art is and miss seeing Dravid Saikot. His presented work is an attempt to break new ground. They are scopes of new possibilities. They are many things and also art. Between the thinness and the thickness of pigments, there lie certain inquiries. Through their making, Saikot unfolds the drama of life. Being the possessor of spirit, Saikot fills us with hope and aspiration. He elevates our subconscious to consciousness, our seeing become gazing and our hearing become listening. His voice on canvas propagates and promotes the culture of its inhabitants and leave deep marks for the viewer. This may be the heavy weight knock on our ever so solidified understanding of art and its making. His bold selection of basic colors only an indication of straightforwardness. They don't fancy at the viewer. Rather, pushes the viewers to participate quietly and honestly. He delays his viewers not by mere anticipation for more but for self-reflection. Through the mirror of the horse's eyes, he allows the viewers to enter into the world of Saikot, where everything is pure, everything is in balance, and every thing is before art.

Salauddin Ahmed.
A Practicing Architect and Design Critic at the Schools of Architecture in Dhaka.