Book Drive, 2012
Book Drive for the Resource Center of Dhaka Art Center took place on 13th January, 2012 from 3pm to 8pm.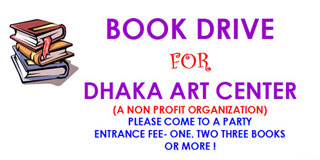 The event was hosted by two of DAC trustee members- Kuhu and Mustaque Ahmed. It was a PARTY where guests were invited to come with ONE, TWO, THREE even MORE BOOKS.

Guests joined the party with books, magazines, DVDs on various themes.

Resource Center has collected 83 art books, 64 art magazines, 17 catalogues and 7 DVDs.