Contact Address

House 60, Road 7/A, Dhanmondi R/A, Dhaka-1205 info@dhakaartcenter.org


Location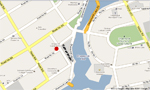 Solo Photography Exhibition by Anwar Hossain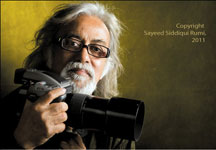 Solo photography exhibition 'Calcutta-Kolkata' by Anwar Hossain, eminent photographer of the subcontinent is going on at Dhaka Art Center (DAC).

On 1st November, 2011 his excellency Mr. Sanjay Bhattacharyya, Deputy High Commissioner, High Commission of India, Dhaka, Bangladesh, has inaugurated the exhibition.

Eminent journalist Shaheen Reza Noor, Assistant Editor, The Daily Ittefaq and Publicity Secretary, Bangladesh-India Friendship Association, was present as special guest at the opening ceremony.

Poet Belal Chowdhury has presided over the opening function.

The exhibition will be open for all till 13 November, 2011. Timing of the exhibition is scheduled 3 pm to 8 pm.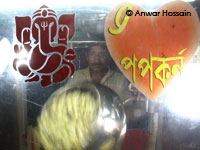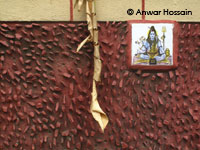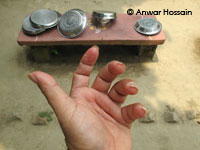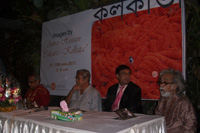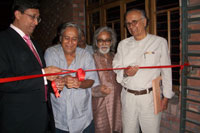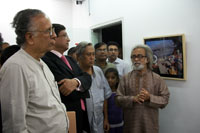 For more pictures, please join Dhaka Art Center Group in

Activities
2012

Solo Exhibition

Sumana Akter
Nasima Khan

Group Exhibition

Amity of Our's
Kibria Printmaking
Fair, 2012

Photography

Sayeed Siddiqui Rumi
Babu Ahmed

Seminar and other
Programs

Book Drive


2011

Solo Exhibition

Farhana Islam
Sanjib Datta
Ali Akbar
Dravid Saikot
Mustapha Khalid Palash
Minufar Nasrin
Naimul Bari
Mohammad Eunus
Mohammad Salim
Anwar Hossain

Group Exhibition

Crossover, 2011
Angina
Express Yourself
The Country of Rising Sadness
Group Painting Exhibition
Master and Apprentices
Paintings by Childrens
Rejoice
Jago Antore Momo

Workshop

Rickshaw Painters

Photography

Anwar Hossain
Plays in Light
Globalization: A Bipolar Story
Nafis Ahmed Nadvi

Seminar and other
Programs

Liberation War
Documentary Festival
Speech-Presentation
Bonsai Exhibition
K G Subramanyum

2010

Solo Exhibition

Jamal Ahmed
Monica Jahan Bose
Ferdousi Priyabhashini
Wakilur Rahman
Showpon Choudhury

Group Exhibition

Tree & Roots
Drawing Exhibition

Workshop

101 Art Camp
15 August 2010
Balu Chaya

Performance

Seiji Shimoda

Seminar