Ajo
Written by Shahneela Tasmin Sharmi, Tuesday, 12 April 2011 from www.youthsparks.com

If you are one of those people who are tired of making trips to all those flashy and fashionable food stops in Dhanmondi, then this is one place you should definitely check out.

When you are in Dhanmondi 7/A, be sure to drop by Ajo, a café run by the administration of Dhaka Art Centre. Whether you love art or not, I can assure that you will fall in love with the place.If you want a quick bite then "fast casual" should be more of your type, or if you want to settle for some tranquility and "relax dining", go for the upstairs section.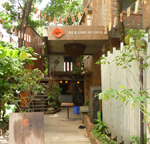 Personally, fast casual is more of my thing. I make frequent rounds to that place, and usually settle down there. The Oreo frappe is my personal favourite, and I have to pay Tk.150 only. There is always a rush in that place, but then again, the place does fulfill the promise- the casual environment is just perfect. Often, I see youngsters with guitars, trying to come up with a new tune in the outside porch, or sometimes, I come across photographers or professionals busy with their own discussions under the soft lighting. Smokers have the outside porch to their advantage, they can smoke all they want, but since I am being a critic, I should probably mention that the flies and the ants walking across the tables will surely get to your nerves at one point or the other! Or if you go alone, I am sure you can just order an Oreo frappe or some snacks and settle down with your laptop or check out the surroundings at times- trust me on this- you shall be entertained!
Relax dining provides these same advantages, but that is good for you if you want more of a "private" place (all the couples out there, please do not start having thoughts!). That section has a porch too, and that overlooks the fast casual section beneath.
And yes, thankfully, it is pretty much affordable. Prices range from Tk.25 to Tk.370, which is much less inexpensive if compared with the other famous food stops in that location. I have had lunch there once and found the food to be delicious. The food is worth your money, that is all I can say!
Ajo remains open from 10am-10pm. So the next time you are stranded with Dhanmondi with a friend or two and with nowhere else to go, be sure to pay a visit to Ajo @ Dhaka Art Centre, House-60, Road-7/A, Dhanmondi, Dhaka-1205 or for further information, just call them up at 01613161616.