Events in DAC
Colours of Friendship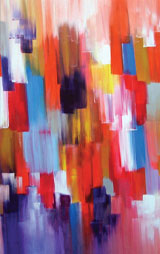 An exhibition of paintings by contemporary Indian artists is being organized by Visual Impact in association with Dhaka Art Centre from 12th to 18th September 2014.

This exhibition has been organized keeping in mind the cordial relationship between the two countries India and Bangladesh and the creativity that crosses over all kinds of borders. Here we want to showcase the brilliance of the Indian artists for the people of Bangladesh to appreciate and in future we hope to reciprocate the same by showcasing the creativity of the Bangladeshi artists in India.

The exhibition brings together artists from different parts of India, whose works vary from figurative to abstract, line drawings to landscapes and so on. The brilliant use of various media by the painters need a special mention…. Acryilic and oil on canvas and acrylic sheet, mixed media on paper and canvas, water colour ,conti, pen and ink on paper. These works of art would occupy special place of pride in the hearts of art enthusiasts as they can adorn the homes of the buyers, can be gifted to friends and family and also be kept as investments for the future.

The one week long show at the DAC will give the art lovers enough time to come and view the works repeatedly before they can make up their minds. We will be displaying about seventy pieces of art in this show.

The participants of this show are Jogen Chowdhury, Suhas Roy, Thota Vaikuntam, Lalu Prasad Shaw, Prakash Karmakar, Samir Aich, Subrata Gangopadhyay, Wasim Kapoor, Jayashree Chakravarty, Aditya Basak, Atin Basak, Laxman Aelay, Sanjay Bhattacharya, Laxman Aelay, Sachin Jaltare, Babu Xavier and Kazi Anirban are also part of the show.

The Exhibition will be open to all from 12 to 18 September, 2014 everyday 3:00 pm to 8: pm
The Dying Grounds' (যন্ত্রযানের যাপিত জীবন)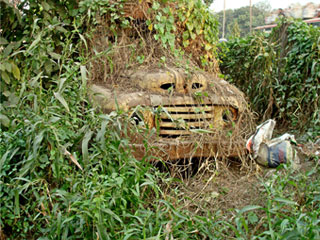 Journalist Shafiq Rahman's week-long photography exhibition, 'The Dying Grounds' (যন্ত্রযানের যাপিত জীবন) is to be inaugurated at 4:00 pm on Friday, September 5, 2014 at Dhaka Art Center. Hon'ble Minister for Information Hasanul Haq Inu has kindly consented to inaugurate the exhibition as Chief Gust. Poet and member of parliament Quazi Rosy will be present as Honorable Guest, architect Shamsul Wares and artist Syed Hasan Mahmud will also be Special Guest on the occasion.

You are cordially invited to attend the opening ceremony.

The Exhibition will be open to all from September 5 to 11, 2014 Daily 3:00 pm to 8: pm
True Colors-Rediscovering Bangladesh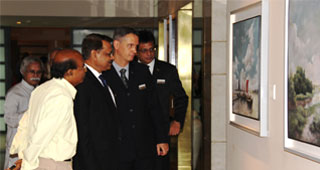 Radisson Blu Water Garden Hotel Dhaka (RBWGHD) brings you "True Colors-Rediscovering Bangladesh", a distinctive Art Exhibition, being held in collaboration with Dhaka Art Centre on 25th August, 2014. The theme of the exhibition comprises picturesque landscapes of Bangladesh, captured in canvas as well as water color, of unique scenic locations evoking a sense of tranquility & aestheticism.
The exhibition inaugurated by Brig. Gen. Jahangir Alam (Managing Director – Sena Hotel Developments Limited). Mr. Christoph Voegeli, General Manager-Radisson Blu Dhaka, Mr. Saeed Ahmed, EAM&DOSM-Radisson Blu Dhaka, Artist Mr. Abdul Mannan & Mr. Alakesh Ghosh, Trustee Members of Dhaka Art Center and distinguished guests were also present there.

Exhibition will continue for a period of three months, everyday 12 pm– 8pm.
Donation from Sayeed Siddiqui Rumi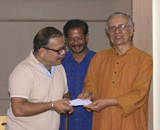 In an informal gathering at Dhaka Art Center, photographer Sayeed Siddiqui Rumi handed over a check as donation to Mr. Ramendu Majumder, the Chairperson of board of trustee of DAC on 27 April, 2012.
101 Artist Art Camp Exhibition 2010
sponsored by Aamra Group & Depart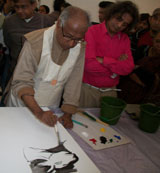 Dhaka Art Center started its journey for promotion of art and artist. With 101 artists, Dhaka Art Center held a camp and then an exhibition at the Dhaka Art Center premises. The event was sponsored by Aamra Group and Depart. The event took place between 10th to 19th of April, 2010.
Studio Facilities

The Center is proud to sponsor the work of both amateur and established artists through its studio program.
Read More
Scholarship, Residency
Art Compitition
Other Galleries
Alliance Francaise de Dhaka, Athena Gallery of Fine Arts, Bangladesh Shilpakala Academy, Bengal Gallery of Fine Art, Britto Art Trust, Chobi Mela, Dhaka Art Summit, 2012, Drik Gallery, Gallery Chitrak, Galleri Kaya, Goethe Institute, Dhaka, Institute of Architects Bangladesh, Jolrong