Events in DAC
Kibria Print Fair 2015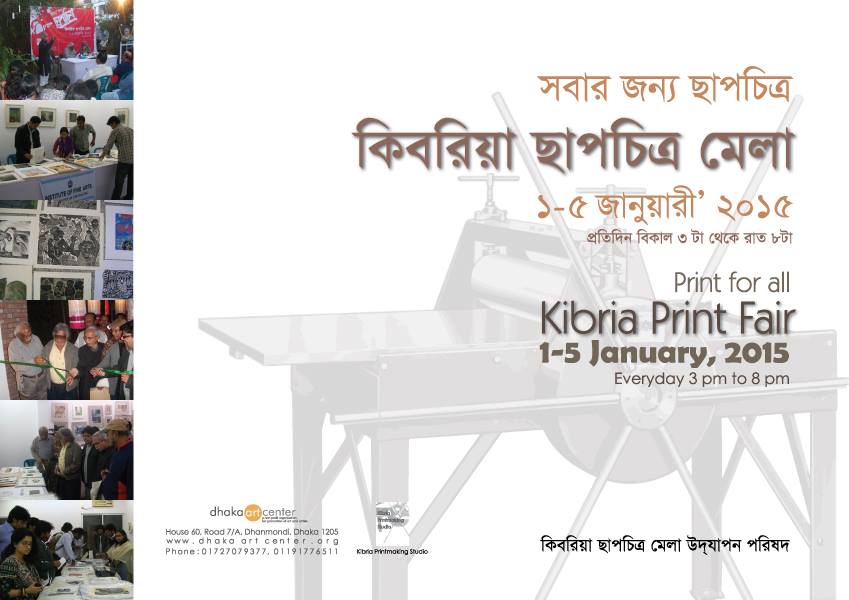 The 4th Kibria Print Fair has been arranged to commemorate the 6th founding anniversary of Dhaka Art Center, from 1-5 January, 2015. Fourteenth printmaking studios from around the country will participate in the fair with prints created by eminent and young printmakers of Bangladesh.

At the opening ceremony of the fair 'The Life Time Achievement Award' will be presented to Eminent Artist and Printmaker Monirul Islam for his valuable creative contribution in this field, and for the first time three young printmakers will awarded 'Young Printmakers ward 2015' on this occasion.

This national event will be inaugurated by Mr. Asaduzzaman Noor, MP, Honorable Minister, Ministry of Cultural Affairs, Peoples Republic of Bangladesh. Art Connoisseur Durjoy Rahman Joy will attend the program as special guest.

The function will be presided over by Eminent Artist Rafiqun Nabi. Your participation will ensure the success of the Print Fair.
Studio Facilities

The Center is proud to sponsor the work of both amateur and established artists through its studio program.
Read More
True Colors-Rediscovering Bangladesh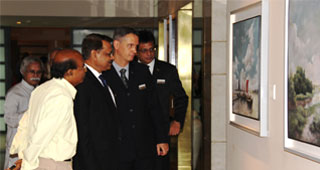 Radisson Blu Water Garden Hotel Dhaka (RBWGHD) brings you "True Colors-Rediscovering Bangladesh", a distinctive Art Exhibition, being held in collaboration with Dhaka Art Centre on 25th August, 2014. The theme of the exhibition comprises picturesque landscapes of Bangladesh, captured in canvas as well as water color, of unique scenic locations evoking a sense of tranquility & aestheticism.
The exhibition inaugurated by Brig. Gen. Jahangir Alam (Managing Director – Sena Hotel Developments Limited). Mr. Christoph Voegeli, General Manager-Radisson Blu Dhaka, Mr. Saeed Ahmed, EAM&DOSM-Radisson Blu Dhaka, Artist Mr. Abdul Mannan & Mr. Alakesh Ghosh, Trustee Members of Dhaka Art Center and distinguished guests were also present there.

Exhibition will continue for a period of three months, everyday 12 pm– 8pm.
Donation from Sayeed Siddiqui Rumi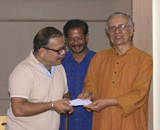 In an informal gathering at Dhaka Art Center, photographer Sayeed Siddiqui Rumi handed over a check as donation to Mr. Ramendu Majumder, the Chairperson of board of trustee of DAC on 27 April, 2012.
101 Artist Art Camp Exhibition 2010
sponsored by Aamra Group & Depart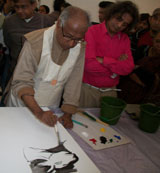 Dhaka Art Center started its journey for promotion of art and artist. With 101 artists, Dhaka Art Center held a camp and then an exhibition at the Dhaka Art Center premises. The event was sponsored by Aamra Group and Depart. The event took place between 10th to 19th of April, 2010.
Scholarship, Residency
Art Compitition
Other Galleries
Alliance Francaise de Dhaka, Athena Gallery of Fine Arts, Bangladesh Shilpakala Academy, Bengal Gallery of Fine Art, Britto Art Trust, Chobi Mela, Dhaka Art Summit, 2012, Drik Gallery, Gallery Chitrak, Galleri Kaya, Goethe Institute, Dhaka, Institute of Architects Bangladesh, Jolrong