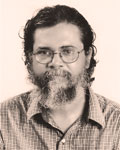 Nisar Hossain
Present Position
Professor
Department of Drawing and
Painting,
Faculty of Fine Arts,
University of Dhaka.
&

Visiting Professor
University of Development Alternative (UODA),
Dhaka.


Born in 1961, Dhaka, Bangladesh.


Education

1985: MFA, Visva-Bharati, Santiniketan, India.
1981: BFA, Bangladesh College of Arts and Crafts (presently the Faculty of Fine Art, University of Dhaka)


Exhibition

Presented 1 solo exhibition and has taken part in numerous group shows at home and abroad.

Art critic of Nisar Hossain's works published in Daily Star, June 17, 2011

Do Fine Feathers Make Fine Art?

by Fayza Haq

Nisar Hossain, a much admired, outspoken professor of the Fine Arts Department at Dhaka University, is never at a loss for words, and speaks with remarkable enthusiasm about the future of artists in Bangladesh. If the art market was the all and end all would Van Gogh have come into existence and the rest of the artists of renown of Russia and Italy who ended in suicide have come into existence?

Nisar Hossain says: "Whether in a market form or not–those who worked in the prehistoric period, who could not take part in hunting, who participated in the magic ritual – who were somewhat aging, and happened to be women– they had to establish links with the economy of survival. Those who were bringing home the hunt, believed that they were victorious in the animal hunting game. Thus there was a group of hunters and farmers – while a group recorded their activities by drawing vigorously on the caves. Hence the painter had a vital link with the income-generating group."

"During the feudal days of knights and barons, the artist was a court painter. When the artist got an open market, and the freedom, the painter was rewarded for his personal creativity. Before this, whatever was acceptable by the people was considered the right thing. Today, there is a certain level of people who can appreciate the layers of meaning in an art work. Their talent is recognised. Yet those who have the money in their hand may not be of the intellectual level to be able to truly appreciate the gravity and finesse of the artist's work. If an artist feels that he is going to work in an uncompromised manner that is not possible. The world of art is controlled by the more developed and industrialised world. One cannot say that this is good for world art or that this practice is good universally – considering the Asian, South American and African world. At this moment, one cannot say if the genuinely talented artist is recognised. Even in the case of Van Gogh – there was a certain amount of control by the market and those who paid for his boarding and lodging. One cannot say that Van Gogh's work like the 'Sunflower' is unparalleled. Picasso has said that the Cave paintings of France are unmatched. But the cave paintings are different: That art that can be bought and sold goes up in price; and we think that there is nothing to surpass this. Paintings are commodities that are being promoted for the interest of patrons, and galleries– and not the painters. When there is an investment, it's done in such a manner that it benefits the patron or gallery. When does a patron get hold of an artist? – it is when the artist has reached the signature level – when the signature is recognised and viewers will pay for it. If he does anything highly radical, it is not accepted. Meanwhile, it can never be the goal of the artists to make a world record by the sale of his work. The creative ability of the artist should not be compromised. And this applies to Van Gogh."

What keeps an artist going? Isn't it some sort of reward necessary to keep the artist going even if it is just a medal or prize money or even a bottle of wine or a month's rent for the room? Nisar Hossain says that an artist is a member of the society. He moves with a set group of people. In any work, he needs inspiration. Within a creative practice, the work itself can be inspiration for the artist, the experienced professor says. For instance, when Rabindranath painted, for a long time, people did not appreciate them. He got pleasure just doing his work. Within him, grew a huge demand for appreciation. He went to the west. He decided that he would not take his paintings to his country because the people there did not appreciate these paintings. He decided to give them away. During his life, Rabindranath could not sell any of his work. The appreciation that he received was on a level that Indian painters have not received, as yet. One needs appreciation. Man does not want to do a meaningless work. He is a human being. He wants that what he has painted on his earth should be appreciated. He wants something positive from this–be it just pleasure. An artist feels that a sense of satisfaction is necessary and not just money or appreciation in print. The same applies to music composers or writes. Those who draw and paint say that satisfaction cannot be bought with mere money. Hence painting is just a spiritual practice. Man is a social being. He wants to share what he does with those around him. He also wants to share his emotions like his love, joy and pain. He wants recognition from others.

What should be the aim of a true artist? How far should he try to make his work global i.e. acceptable anywhere in the world–or should he keep to the blue sky, boats and bathing beauties of the village to give the work a local brand? Should the artist not search for something new and something fresh? The well-loved professor says that the term 'true artist' is an overrated term. One cannot standardise a true men or a true artist, he says. An ideal man, a situation, an ideal society is hard to get. These terms suggest too much of expectations. "I feel that through art, literature and music–through the practice of art– we find the various ways a man can see, feel. My personal feelings are not every other man's thoughts and feelings. The thoughts of ten men are not those of a specific person. Each art work, seen by five people, is seen in five different ways. Hence, I feel, it is difficult to say what the true artist is. When I see an artist's work, I'll see the way in which he is seeing at things in a way so different from mine. Thus, when I read someone's work, I'm amazed at the different way the writer is thinking. We can't put our finger on what is good, bad or ideal. One can show a negative situation, while another a positive one. One can show something ugly or something nice," says the patient professor.

Asked about the future of the Bangladeshi artist, Nisar Hossain is firmly positive and optimistic. He points out that fine arts activities in our country are covered more widely in our daily papers, magazines, radio and TV than anywhere else in the subcontinent or the rest of South Asia.
Copyright (R) thedailystar.net 2011
On Nisar Hossain's Art Exposition
By Mahmudul Hossain

Artist Nisar Hossain has questioned the validity of our perception of life and art in this country at this moment. To me, his efforts are Herculean, bound to originate a wave of debate in the creative circle in various mediums and hardly comfortable for all sort of conservative modernity.  This, one may consider, is an honest reaction of an average art lover of the city after visiting Nisar's recently concluded exposition at Gallery 21.  The artist has opened up the possibility of introducing new text in our reading of art that overlaps our living in this delta.  The new text is highly provocative as it challenges elitism and perfectionism. It aims at democratizing aesthetics using mundane, banal signifiers and making revolting revelations.

We have already seen postmodern installations, performances and presentations in the city before. Visual art has been coming of age for some time now through the works of some highly creative young artists. Their performances, light and sound shows, collages, video presentations and installations have done the primary work of introducing us with this new rebellion in the world of human thought process and art. All these works have tried to bring forth the essence of postmodern anarchy by challenging the established icons, questioning the aloofness of modernity and sometimes making weird gestures towards nondescript audience. Some of them were courageous in the sense that they could send shock waves through a cross section of art connoisseurs of the city. Some others were crafty, with very good understanding of occidental interest on post-colonial societies and their art.

But Nisar has done more than that. He has done more than the cosmetic work in his postmodern exposition.  He has suggested an alternate textual reading of our present day living in this country. His vision is not anarchic; it merely meets our everyday perception of fear, insecurity, greed, thirst for blood and the crisis of our identity. The vision excels as art when a red chair sits on green grass and we, the perplexed viewers, lose a heartbeat as we tend to realize this is the very flag whose spirit is preempted to bloody nothingness like a broiled chicken. Nisar proposes alternate reading of Md. Kibria's super smooth perfect composition without a title. He changes the angle of composition by ninety degrees, paints a cruel face on it and proposes to call it "The Killer". We are all haunted by killers. Nisar for once questions himself, the validity of his own innocence. Is any one innocent when killing is as easy as depleting a plastic bottle or breaking an egg? So Nisar presents his own photographs in the form of a killer with expressions of a violent animal. In the middle of the photographs, there is the newspaper cutting of the news of a father killing his son and a mirror to look at one's own face. Here we are, with a possibility of reading our own conscience, if we care.

Killer's image (painted by the artist) is imposed on the parliament building, the flower shop, the killing field of 1971 and the butcher's shop.  Drawings of Killers on transparent sheets are hung all around the hall. The killed has been presented with all the formality in a coffin in the center of the hall.  We view death surrounded by killers and as such with more prospects of killing. Mourners are scared as the terror rules the time.

In the paintings, the lines constituting human figures tend to degenerate into killer animals. The lines are restless, sometimes scared themselves, as if chased by terror.  His colors are far from cool, planned and crafted.  These are not merely the colors of bad times; they are indeed, put on canvas in such times of fear and death.

A discourse opens up within the very mind of the viewers on the validity of aesthetics of Nisar's work. But surprisingly this discourse does not go far independently as the mind itself is engulfed with fear and guilt. We come to realize that relevance of Nisar's text is overwhelming. Because Nisar only makes a formal invitation to visualize the collective psyche of brutality and treason. Here the representation of art is overlapped by reality. Nisar's postmodern aesthetics rejects cold, detached formality in favor of warm activism. The artist proposes a form close to that of the western postmodern art that promotes environmental, ethnic, sexual and other such causes.  It also challenges the immunity of the average citizen of Bangladesh from the spell of psychopaths. Thus it opposes the self-protecting text of our social living.

Nisar Hossain has excelled in another direction.  The works done on environmental, gender or anti-imperial issues have got anemic, global appearance. In majority of such works the issues are not placed properly in context of the society to which the artist belongs.  In some cases these works challenge some texts that are not fully relevant to the society in question. We have seen more than one such work in our country. But Nisar's work has got a strong national angle. He puts forward his alternate text on our life in this country at present time. His work is not in line with what have already become common cliches in western art world since the 1970s. He also does not target the latent, implicit western art market with a familiar eclectic artwork. Nisar's symbols and icons and their synthesis into a chemistry of discourse is only relevant and understood in one time, space and social context. That is present day Bangladesh. Thus Nisar's exposition has a strong anti-globalization stand. This, to me, should become a unique feature of all postmodern art works created in peripheral countries of east and south.