Contact Address
House 60, Road 7/A, Dhanmondi R/A,
Dhaka-1205
dhaka.art.center
@gmail.com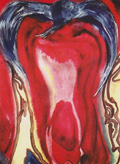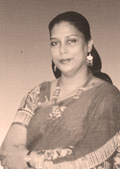 Ms Nasima Khanam
Queenie

Mailing Address:
1/8, Block-A
Livingstone Apartment (7th Floor)
Lalmatia, Dhaka,
Telephone: 9116221



Born : 31st January, 1963.


Education

1986 : Bachelor of Fine Arts (BFA) from Art and Craft Institute, University of Dhaka.

Other Courses

1997 : Attended a printmaking workshop in Shilpakala Academy under Shahid Kabir.
1995 : Completed certificate course on basic drawing for the media from School of Visual Arts, New York, USA under Professor John Foote.
1994 : Attended a Story Telling in Education Conference in Wisconsin, USA in November.

Award

1984 : Received class best award from Oriental Department in watercolor from the institute.


Solo Exhibition

Held Solo Art Exhibition at Dhaka Sheraton Hotel Art Gallery in 1991 inaugurated by the Deputy Leader of the House, later President of the Peoples Republic of Bangladesh, Professor A Q M Badruddoza Chowdhury.

Group Exhibition

Besides participating in all annual art exhibitions of the institute from 1979 to 1985 as a student, also participated in the following exhibitions:
2005 : A Group Art Exhibition, organized by Hyacinth Garden Gallery at the Zainul Gallery in December.
2005 : Miniature Art Exhibition, organized by HUSA at Shilpa Raag in June.
2005 : Annual Art Exhibition, organized by University of Development alternative at National Museum Gallery in April.
2003 : 1st Biennial Exhibition, organized by Bangladesh Society of Oriental Art at Arial Art Gallery.
2000Women Day Art Exhibition, arranged by UNDP at the residence of the High Commissioner of Netherlands.
2000 : Mothers Day Art Exhibition, arranged by UNDP at the Zainul Gallery in
1995 : Held a One-day Art Exhibition at Long Island City High School, New York, USA.
1994 : Held a One-day Slide Show Exhibition on artwork at Hawthorn School, Madison, Wisconsin, USA.
1992 : Group Artist Exhibition at Shilpakala Academy.
1989 : Asian Art Biennial, held in Bangladesh.
1988 : Young Artist Exhibition, held at Shilpakala Academy.


Experience:

Served as a teacher at Radiant International School, Dhaka from 1992-1995.
Conducted demonstration classes in the Schools of Madison and Milwaukee, Wisconsin, USA in 1994
Worked as an art designer of weekly magazine MOHONA in 1985.
Activities
2012

Solo Exhibition

Sumana Akter
Nasima Khan

Group Exhibition

Amity of Our's
Kibria Printmaking
Fair, 2012

Photography

Sayeed Siddiqui Rumi
Babu Ahmed

Seminar and other
Programs

Book Drive


2011

Solo Exhibition

Farhana Islam
Sanjib Datta
Ali Akbar
Dravid Saikot
Mustapha Khalid Palash
Minufar Nasrin
Naimul Bari
Mohammad Eunus
Mohammad Salim
Anwar Hossain

Group Exhibition

Crossover, 2011
Angina
Express Yourself
The Country of Rising Sadness
Group Painting Exhibition
Master and Apprentices
Paintings by Childrens
Rejoice
Jago Antore Momo

Workshop

Rickshaw Painters

Photography

Anwar Hossain
Plays in Light
Globalization: A Bipolar Story
Nafis Ahmed Nadvi

Seminar and other
Programs

Liberation War
Documentary Festival
Speech-Presentation
Bonsai Exhibition
K G Subramanyum

2010

Solo Exhibition

Jamal Ahmed
Monica Jahan Bose
Ferdousi Priyabhashini
Wakilur Rahman
Showpon Choudhury

Group Exhibition

Tree & Roots
Drawing Exhibition

Workshop

101 Art Camp
15 August 2010
Balu Chaya

Performance

Seiji Shimoda

Seminar