Contact Address
House 60, Road 7/A, Dhanmondi R/A,
Dhaka-1205
dhaka.art.center
@gmail.com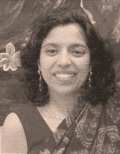 Monica Jahan Bose

Email: monica@monicajahanbose.com
Website: http;//monicajahanbose.com/


Education

BA, Studio Art (painting), Wesleyan University, Middletown, CT, USA
Junior year of BA, University of California, Berkeley, USA
Diploma in Indian Art, Viswa-Bharati University, Santiniketan, India
Juris Doctor, Columbia University School of Law, New York, NY, USA.


Solo Exhibitions

2010 : Open the Door, Dhaka Art center (in cooperation with the American Center of the US Embassy of Dhaka), Bangladesh.
2010 : Tumi Ami; Spring Heat, Galerie Deborah Zafman, Paris, France.
2009 : Drowning: Is There Time for Love?, La Galerie, Alliance Francaise de Dhaka, Bangladesh.
2009 : Water, Love, Language, Fragments of Identity, Galerie Mediart, Paris, France.
2000 : Tokyo Scenes: Intersections, Balconies and Interiors, Genkan Gallery, Tokyo, Japan.


Group Exhibitions

2010 : Pandora's Box, Ganges Art Gallery, Kolkata, India.
2010 : Prix Antoine Marin Emerging Painters Prize Exhibition, Galerie Julio Gonzalez, Paris, France, (One of 12 artists nominated for annual Parisian painters' prize)
2010 : Santiniketan, Atelier Madhu Basu, Bagnolet, Paris, France.
2010 : 101 Artists, Inaugural Exhibition, Dhaka Art Center, Dhaka, Bangladesh.
2009 : Reflection/ Narration: Where Are We Going?, Special Exhibition in Commemoration of International Mother Language Day, U.N.E.S.C.O Headquarters, Paris, France, (duo).
2006 : Landscapes, US Environmental Protection Agency, Washington, DC, USA, (long–term loan exhibition)
2001 : Summer Flavors, DFN Gallery, New York, NY, USA.
1999 : Twenty-Third International Art Exhibition, The Tokyo Metropolitan Art Museum, Tokyo, Japan.


Biography

Born in Britain to Bengali parents, Bangladeshi-American artist Monica Jahan Bose has lived in England, Pakistan, Bangladesh, India, the US, Japan and France. She has lived and worked in Paris since 2006 and will return to US in late 2010.

Her family is both Hindu (her father's side) and Muslim (her mother's side) and is divided between Bangladesh and West Bengal in India, giving her a special perspective on religious and geographic divisions. Her parents were born in present-day Bangladesh, but her father's family was forced to move to India as a result of violence against Hindus after the country was split into India and Pakistan. Her father, however, remained behind in East Pakistan. Bose's parents were political activists and fought to make Bangla a national language in East Pakistan, before it became the independent country of Bangladesh during the liberation war. Her family moved to the US when she was ten.

An artist and activist, Monica Jahan Bose has degrees in art and law. She has been actively involved with several women's organizations, focusing on violence against women, the rights of immigrant women, and female literacy. She has also taught and practiced law, representing many poor women, immigrants, and environmental groups. She worked on air quality issues for the U.S. Environmental Protection Agency before moving to Paris. She currently Paints full-time and serves on the board of directors of NGO focusing on women and the environment in Bangladesh.
Activities
2012

Solo Exhibition

Sumana Akter
Nasima Khan

Group Exhibition

Amity of Our's
Kibria Printmaking
Fair, 2012

Photography

Sayeed Siddiqui Rumi
Babu Ahmed

Seminar and other
Programs

Book Drive


2011

Solo Exhibition

Farhana Islam
Sanjib Datta
Ali Akbar
Dravid Saikot
Mustapha Khalid Palash
Minufar Nasrin
Naimul Bari
Mohammad Eunus
Mohammad Salim
Anwar Hossain

Group Exhibition

Crossover, 2011
Angina
Express Yourself
The Country of Rising Sadness
Group Painting Exhibition
Master and Apprentices
Paintings by Childrens
Rejoice
Jago Antore Momo

Workshop

Rickshaw Painters

Photography

Anwar Hossain
Plays in Light
Globalization: A Bipolar Story
Nafis Ahmed Nadvi

Seminar and other
Programs

Liberation War
Documentary Festival
Speech-Presentation
Bonsai Exhibition
K G Subramanyum

2010

Solo Exhibition

Jamal Ahmed
Monica Jahan Bose
Ferdousi Priyabhashini
Wakilur Rahman
Showpon Choudhury

Group Exhibition

Tree & Roots
Drawing Exhibition

Workshop

101 Art Camp
15 August 2010
Balu Chaya

Performance

Seiji Shimoda

Seminar